Hafnarborg wishes to be a place for everyone to enjoy arts and culture, welcoming school groups of all ages to the museum's exhibitions through the year. The aim of the visits is to foster thought about fine art and design – to see, discover, explore and express oneself.
Art is a mirror that reflects our world and artists deal with the grandest ideas, through questions about life, existence and experience. The school visits are then adapted to the needs of each group, with regards to subject matter, focus and education level. The average visit lasts for around forty minutes, but it is also possible to adjust the length of the visit to the wishes of each group.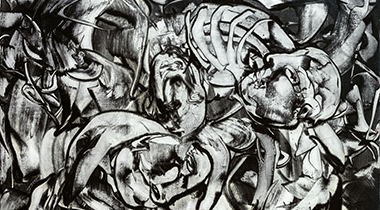 In the Depths of Your Own Awareness
Gunnar Örn Gunnarsson
This retrospective of Gunnar Örn Gunnarsson features works spanning the artist's career, of almost forty years, during which he went through a number of transformations and changed his style a few times. Gunnar Örn was an extremely prolific artist and left a great many artworks: drawings, monotypes, paintings, sculptures and watercolours, as well as works created with mixed technique.
Gunnar Örn Gunnarsson took cello lessons in Copenhagen in 1963-64, as well as attending Svend Nielsen's drawing school in Denmark, though he was otherwise a self-taught artist. Gunnar Örn was an active presence in the Icelandic art scene, exhibiting regularly both here and abroad, for example in Denmark, Tokyo, Budapest and in Achim Moeller's gallery, Moeller Fine Art, New York. Notably, Gunnar Örn was also Iceland's representative at the Venice Bienniale in 1988.
See more here.
What's Up, Ave Maria?
Sigurður Ámundason
The exhibition presents new and recent works by Sigurður Ámundason, drawings and video, dealing with symbols, signs, icons or logos. Such signs have weight in our society, even power – as we seek to interpret the symbols, which tell us something, inform us or communicate a specific message. But what happens if the logo or sign we see does not appear to mark or refer to anything specific? If the logo looks like a logo, uses the language of a logo, but does not point to anything?
Sigurður Ámundason graduated from the Department of Fine Art of the Iceland University of the Arts in 2012. Sigurður has had thirteen solo exhibitions so far, for example at Kling & Bang, Kunstschlager, Húsið in Patreksfjörður, Open, Ekkisens and Outvert Art Space. He has also participated in many group exhibitions. He has worked as a teacher both at the Reykjavík School of Visual Art and the Iceland University of the Arts. In 2020, he received a nomination for the Motivational Award of the Icelandic Art Prize.
See more here.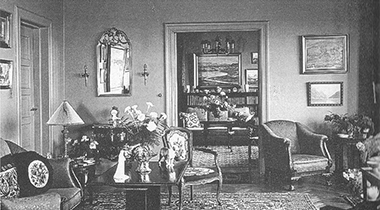 Stirring Emotions
Learning Exhibition
Hafnarborg now presents the learning exhibition Stirring Emotions, which explores the connection of art and emotions. The founders of Hafnarborg, Ingibjörg Sigurjónsdóttir and Sverrir Magnússon, shared a common interest in the arts, but Sverrir was already a young adult when he first visited an art exhibition, describing the experience in this way: "I can distinctly remember the emotions that seeing a painting for the first time stirred in me."
At the exhibition, select works from the museum collection are considered as representations of a wide range of emotions, expressed through art, while encouraging young visitors to reflect on the works. How are emotions portrayed by the artist? Does an image have the power to stir similar emotions in people, or perhaps even different emotions?
See more here.
We receive school groups, by appointment, on weekdays from 9 a.m. to 4 p.m., free of charge. We recommend keeping the size of each group limited to around twenty-five students, so that everyone is able to gain the most from the visit, which is why we advise splitting larger groups into at least two smaller ones.
To schedule a visit, please contact the museum via telephone at 585 5790 or via email at [email protected].