This summer, the town of Hafnarfjörður announces guided evening walks, focusing on culture and wellness, which will take place on Thursdays at 8 p.m. Participation is free of charge and everyone is welcome. The tours are in Icelandic.
Thursday July 12th at 8 p.m., Jónatan Garðarsson will lead a tour from Gerðið, east of Rio Tinto's smelter in Straumsvík (see map below), in search of Hreinn Friðfinnsson's First and Third House. The walk will last for almost two hours.
"In the late summer of 2011, the faint outlines of a house could be glimpsed as it roamed over the lava fields south of Hafnarfjörður. The house, reminiscent of a ghost or a shadow in the landscape, travelled at a slow pace. A mound of pumice had recently been cleared of timber remnants and other debris and upon that mound, the house was placed. There it stood, and to the spectator, it might have been a dream, a recurring memory of something that used to be or a notion of something yet to come."
Excerpt from Ólöf K. Sigurðardóttir's preface to the book First House / Second House / Third House, published by Hafnarborg in 2012.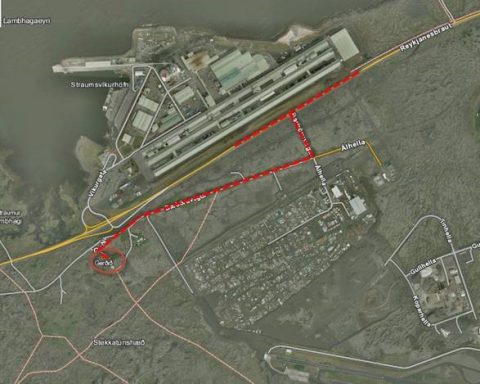 To see a list of this summer's guided evening walks, please visit Hafnarfjörður's website.