Gunnar Örn Gunnarsson (1946-2008) moved with his family to Kambur in South Iceland in 1986. There, he had a spacious studio in an old storehouse, which he transformed and used as his workspace for over two decades, but the space made it possible for him to work on a bigger scale than before. From 1998, Gunnar Örn also ran an international gallery on site, called Gallerí Kambur, now an artist residency.
This summer, Hafnarborg presents a retrospective of Gunnar Örn's career, titled In the Depths of Your Own Awareness. In connection with the exhibition, Gunnar Örn's family will open the artist's studio at Kambur all Saturdays in August, from 11 a.m.-5 p.m. Kambur is located by the lake Vestra Gíslholtsvatn, midway between the towns Selfoss and Hella, on route 284, diverging from the Ring Road shortly after one crosses the river Þjórsá heading eastwards (driving from the capital takes a little less than an hour and a half).
Click on the map to view it as a bigger image.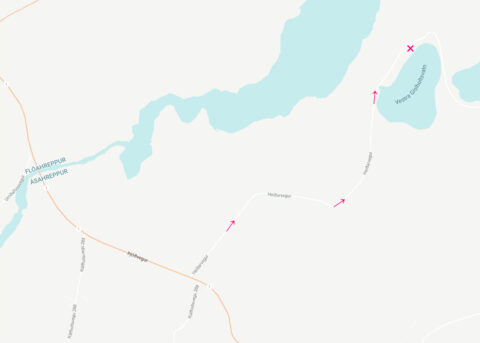 Welcome to the studio for a coffee and a chat.