This year's Globe of Goodwill, Sphere with Mark, by Karin Sander is now available at the museum shop. Each year, the Globe is sold as a limited edition, but last year the Globe sold out. All proceeds go to benefit children and young people with disabilities.
A red brushstroke floats in the tree, a painterly gesture on a fragile glass sphere, the colour glows and moves, acting as a marker of the ending year.
Karen Sander applies a single brushstroke to the transparent Globe of Goodwill as a clear painterly gesture. The thick impasto sits on the smooth, convex surface of the glass, visible three-dimensionally from all sides, including its concave side. The brushstroke's end is wispy, revealing the viscosity of the colour while also telling of a gesture that is both cautious and energetic. The chosen colour stands out luminously from its surroundings, thereby becoming a sign of attentiveness and self reflection. Sphere with Mark thus becomes a mobile painting that constantly changes, as it responds to the environment, integrated in the painting itself.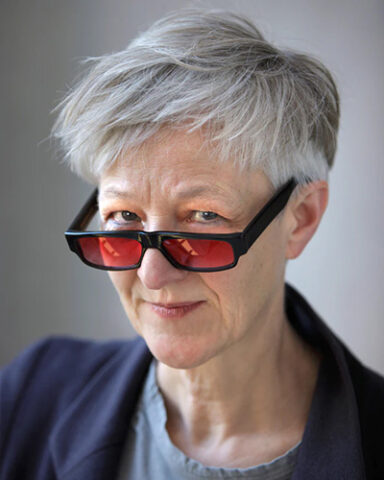 Karin Sander (b. 1957) lives and works in Berlin and Zurich, but she has been connected to the Icelandic art scene since the early 1990s. Her artistic practice questions given situations and spaces in relation to their structural, social and historical contexts, making them visible in different ways using a range of media. Her works have been presented in solo exhibitions and festivals worldwide and belong to public collections around the world. Since 2007 she has held a professorship for architecture and art at the ETH (Swiss Federal Institute of Technology) in Zurich. Together with Philip Ursprung, she will represent Switzerland at the 18th International Architecture Biennale in Venice in 2023.
The Globe of Goodwill will be sold at the museum shop from December 8th until December 23rd, or while it remains in stock.