At noon on June 10th, Rósa Guðbjartsdóttir, Mayor of Hafnarfjörður, unveiled a new mural by artist Juan on the wall of Strandgata 4, which has been decorated with various wall paintings in the last years. In the first place, Juan contacted the municipality of Hafnarfjörður to find out if the town had a building which might be fit for this purpose, but Juan has lately caught people's attention for his murals in the public space all around Iceland.
Members of the Culture and Tourism Committee of Hafnarfjörður were intrigued by Juan's idea and asked him to submit a proposal for a mural on Strandgata, but the resulting sketch was a collage of monuments and public artworks in the town of Hafnarfjörður, including select works under the care of Hafnarborg. Subsequently, representatives of the town contacted the artists or the families of the artists to ask for their permission to make use of the works in this manner, which they all kindly granted, and so thanks go to everyone who made this work possible.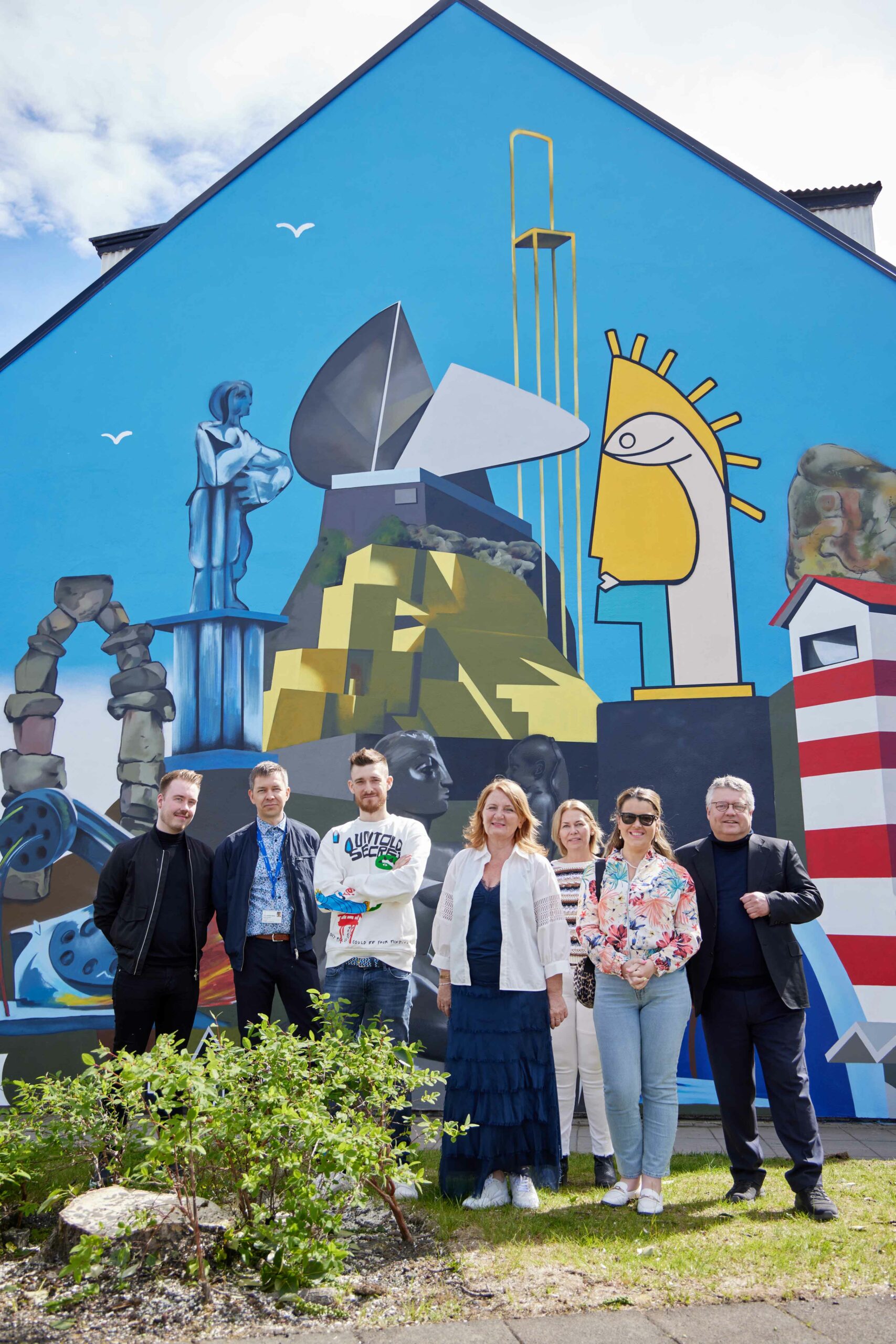 The mural depicts the following monuments and public artworks:
· Worship by Ásmundur Sveinsson
· Shelter for Winds by Barbara Tieaho
· The Golden Gate by Eliza Thoenen-Steinle
· Monument to the First Lutheran Church in Iceland by Hartmut Wolf, also known as Lupus
· Troll by Páll Guðmundsson of Húsafell
· Hafnarfjörður Variations by Sebastian
· Bad Connection by Sonja Renard
· Untitled work by Sólveig Baldursdóttir
· A Hundred Years of Solitude and an untitled work by Sverrir Ólafsson
· The Watch by Timo Solis
· Sailing by Þorkell Gunnar Guðmundsson
The mural also features a QR code which leads directly to Hafnarborg's website on public artworks in Hafnarfjörður, which will hopefully increase awareness of and people's interest in this remarkable collection, which can be visited at all hours of the day. In the hopes of improving public health, Hafnarborg the encourages both residents and visitors of Hafnarfjörður to take a walk around town – seek out the works, take a little break and let art be a force of healing.
Hafnarborg's website on public artworks can be found here.