One Year by Sirra Sigrún Sigurðardóttir is The Globe of Goodwill for the year 2021. Each year, the Globe is sold as a limited edition, but last year the Globe sold out. All proceeds go to benefit children and young people with disabilities. The artist describes the piece with these words:
The sphere is surrounded by an illustration that shows different sun orbits depending on the time of the year in Iceland, from long bright summer nights to the winter solstice when light is only present for few hours a day. The illustration depicts the different brightness levels of the day and the decisive seasonal fluctuations that we experience as the year goes on here by the Arctic Circle. The five colours that stretch around the sphere represent dawn, first light, daylight, sunset and darkness. The most prominent colours are yellow for bright midday and blue for the darkness of the night; in between are orange, pink and purple for the twilight. The piece tries to capture something we are all so familiar with in our daily lives, but it also speaks to our larger context, to our ever-changing position in space where we revolve around an axis on an orbit around the sun.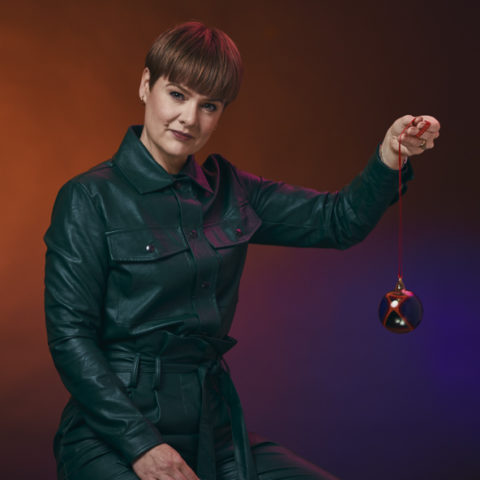 Sirra Sigrún Sigurðardóttir completed her BA degree from thee Icelandic Academy of Art in 2001 and an MA degree from the School of Visual Art in New York in 2013. Sirra's work is cosmic in nature, often connected to speculations about our position within the inner workings of nature, physics and the forces that drive the world. It often evokes our status as individuals, our value and smallness where the small is placed in the context of the larger and the meaning is transferred from one phenomenon to another so that it becomes a new perception, a new vision. She has held solo exhibitions at the Reykjavík Art Museum, The Living Art Museum, the Árnes Art Museum, Hafnarborg and Kling & Bang. She has also taken part in numerous exhibitions around the world, including in China, Finland and England. Sirra has attracted well-deserved attention for her art and received grants and recognition from the art funds of Svavar Guðnason, Guðmunda Andrésdóttir and the Guðmunda S. Kristinsdóttir Prize. Sirra has been a member of the artist-run space Kling & Bang since its inception in 2003.
The Globe of Goodwill will be available at our museum shop from December 9th until December 23rd. This year's Yuletide Lads mobile is also available at the shop until December 16th. To read more about the mobile, please click here.